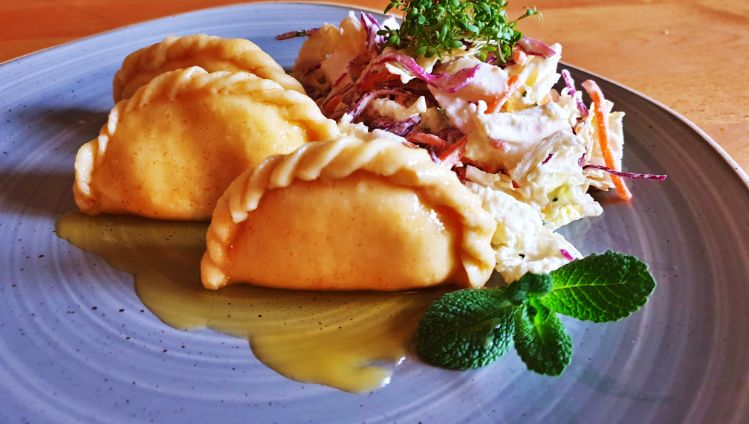 Recipe
Carinthian Kasnudeln with coleslaw and yoghurt dressing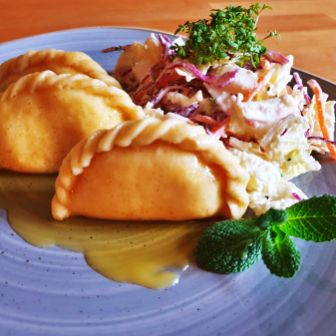 Ingredients
Pasta dough
300 g stiff flour
1 egg, approx. 30 ml water
1 tbsp oil
1 pinch of salt
Pasta filling
100 g Leeb Vital organic sheep's curd cheese
100 g Leeb Vital organic goat curd cheese
3 potatoes floury
1 half onion
1 handful cheese noodle mint (alternative peppermint)
salt and nutmeg
200 g butter
Salad
half a head of white and red cabbage
1 carrot
Dressing
1 cup Leeb Vital organic sheep's milk yoghurt Greek style
2 tbsp vinegar
1 tbsp oil
1 tablespoon honey
2 cloves garlic
Preparation
For the cheese noodles, knead all the ingredients of the dough and wrap in cling film, leave to rest for 30 minutes.
Now prepare the filling: boil the potatoes, peel, press and form into medium-sized balls with the remaining ingredients of the pasta filling. Put a pot of salted water on to boil.
Unroll the dough and roll out to the thickness of the back of a knife, cut out circles with a larger glass. Place a ball of pasta filling in the centre of the circles, now fold both ends together and stick and "crimp" with a little water.
Cook the crimped pasta in boiling salted water until done.
Now heat butter in a pan and toss the cheese noodles in it.
For the salad, finely chop both heads of cabbage and cut the carrot into julienne.
Peel and press the garlic and mix with the remaining dressing ingredients, add the carrots and cabbage.
Arrange everything and enjoy immediately.
Recipe and photo by Eva-Maria Bachler