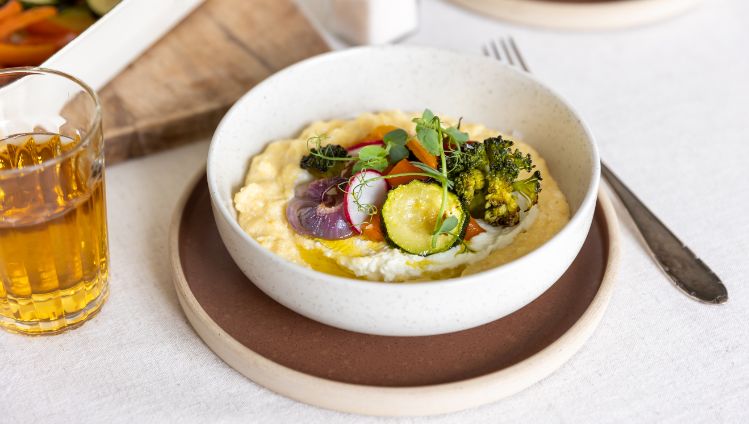 Recipe
Creamy polenta with oven vegetables
Ingredients
Ingredients for 4 servings

500 ml

organic goat milk longer shelf life

130 g

corn semolina

2 tsp.

olive oil

1 pinch

salt

1 pinch

pepper

200 g

goat curd
For the oven vegetables

1 small

broccoli

1

yellow bell pepper

1

zucchini

10

cocktail tomatoes

1

red onion

2

carrots

2

radishes
For the marinade

3 tbsp

olive oil

juice of

one lemon

1 tsp.

maple syrup

1 pinch

salt

1 pinch

pepper
Additionally

200 g

goat curd

Fresh

herbs
Preparation
Preheat the oven to 180°C.
Wash the vegetables and pat them dry. Wash the broccoli and cut it into small florets. Cut the peppers into quarters, remove the skin and cut them into fine strips. Cut the zucchini into thin slices. Peel the onion and cut into fine strips. Peel the carrots, halve them, and cut them into sticks. Then place the tomatoes in a baking dish and marinate with olive oil, lemon juice, maple syrup, salt and pepper. Cook at the same temperature for 20-25 minutes.
For the cream polenta, bring the goat's milk to a boil in a saucepan. Stir in the polenta, while stirring constantly. Add the olive oil, salt and pepper. After boiling, reduce the heat and let it swell at low temperature for 15-20 minutes. 2 minutes before the end of the cooking time, stir in the goat curd.
Using a kitchen slicer, finely slice the radishes. Put the goat curd in a bowl and mix until creamy.
Divide the creamed polenta in portions among 4 bowls. Garnish with goat curd, oven vegetables and radish slices and fresh herbs.